To edit a module, simply click on the module you want to edit and click the pen tool.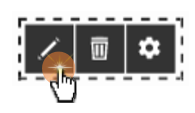 When the Edit icon has been selected, the module window will open and look something similar to the below.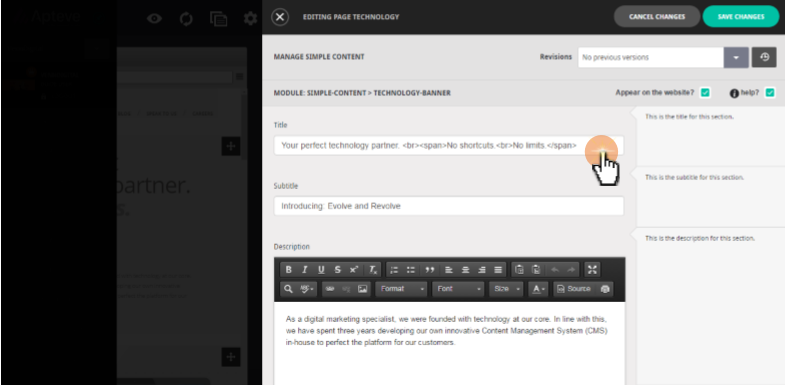 The user can then edit the data and content that is featured within this specific module. This information is shown in a range of different fields depending on whether it is a Title, Sub-title, Image or other content type within the module.

Modules are bespoke to each users CMS and site-editor. The modules on the pages are all edited in the same method but may look different depending on the content within that specific module.

Revisions

This option allows users to choose a previously saved version of the content within the module. To do this, the user needs to select a revision from the drop down menu, and click the revision button to the right of the drop-down and then save the module.


Appear on website

This tick box allows the user to either enable or disable the module they are editing.

Help

This tick box enables the module help boxes which assist the user in understanding what it is they are editing.

Editing Single Line Text: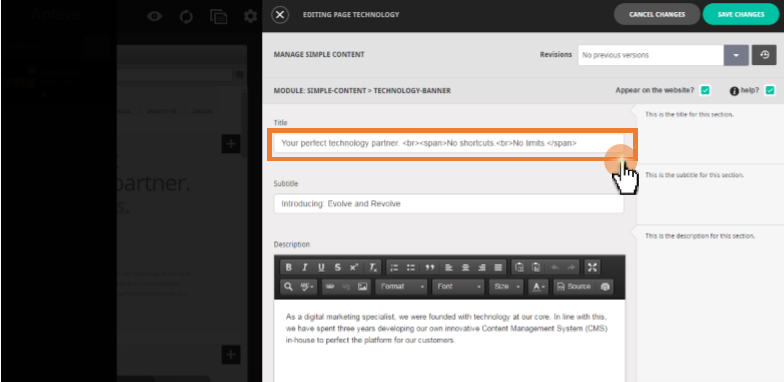 If the site is already Live, the module will have existing data in these content fields that can be edited and amended. The different fields have bespoke styling to keep the content in line with the design of the users site, due to this only the content will be editable.


Make sure to save any changes once editing has been completed. Note that these changes will not be seen on the live site until the page is published.